Yet Another Fantasy Gamer Comic News
Posted 14:32
Mon 17 September
by Dungeonmaster
YAFGC Book Three: Lich of the Rings!

This book is NOW AVAILABLE for PREORDER, in both Artist and Regular Editions, through the YAFGC online store.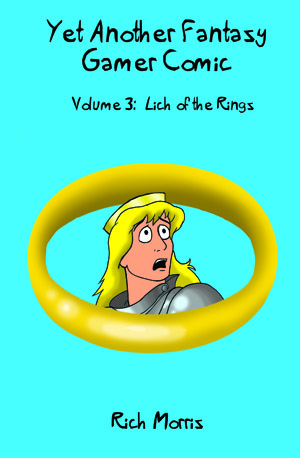 YAFGC Volume Three: Lich of the Rings includes
160 pages of awesome!
Strip 577 to strip 822, plus new strips never before published, on the web or elsewhere!
"Rich's Sketchbook" artbook appendix
Black and white insides
Perfect bound (like a regular graphic novel, in other words)
Note: new dimensions of 9" x 6" - all reprints will now be done in this size as well.
Regular Edition: $15 + shipping
Artist's Edition (same book, with a personal sketch): $25 + shipping
We are still offering a special deal for volumes one and two, in the old size format. Save on both the cover price and on shipping by ordering the books together. Buy the two-pack of Volume 1 and Volume 2, priced at $35 for Regular Editions and $50 for Artist's Editions.